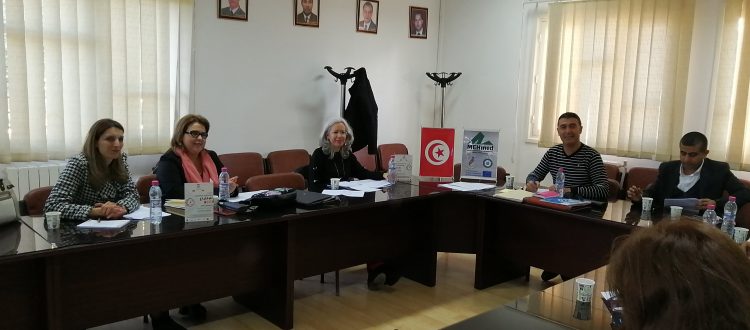 MEHmed – UM Project ACADEMIC COUNCIL MEETING
The members of the Academic Council were warmly welcomed by the Dean of the Faculty of Sciences of Monastir, Professor Adel KALBOUSSI, who, before retiring, wished to express his encouragement and support for the work of the council.
The working meeting began with a word of welcome expressed by Pr. Hatem DHAOUADI, the project coordinator at the university of Monastir, followed by a brief presentation of the background and the objectives of the masters.
It was reminded on this occasion that the master must consist of:
• 9 Mandatory modules to which the Academic Council must propose teacher-tutors,
• 15 Modules specific to the region and the University of Monastir that the Council is called upon to define (title and academic leader),
• 2 optional modules, one of which is English and the other to be defined by the Council,
• 1 Practical Module and
• 1 Project
The discussion focused on the relevance of introducing specific modules related to entrepreneurship, law, conflict management, neuro-linguistic programming (NLP) …
On the other hand, the academic and administrative issues relating to multi-disciplinary education were raised, such as the origin and nature of the learners' qualifications, the profile of the teachers, the qualification criteria for a masters subject to the sectoral chemistry commission…
It was also proposed to list, thanks to the Tunisian Referential of Trades and Skills (http://rtmc.emploi.nat.tn/dm/index.php/rtmc/accueil), all the trades likely to correspond to graduates of the master. Similarly, it was advised to see the possibility of sponsoring some students via the National Agency for Employment and Self-Employed Work (ANETI). It should also be noted that a quota of 5 professional executives will be invited to enroll in this Master's degree in order to strengthen the capacities of their respective institutions in the field of managing problems related to environmental change.
Following the discussions and exchange of experiences of each other, a draft of full Master's program has been proposed.